Moderator: Moderators
Ghetto u sayin at the super 8
Below Average

PR department Most Wanted video
I will be stopping by the show grounds around 8, then heading to the Quality Inn. See ya guys tonight.
............Tom@LRD....................

http://www.LowriderDepot.com
sucks I can't make it best of luck to you guys
see you guys and gals in the A.M

look for the blue subaru with vermont plates haha
Some day i'll have one of my own and be riding low and slow and draggin with the rest of you
great show as always...tons of events and activities...had a blast..feel sorry for any1 that had to miss it.....got tons of footage for this yrs most wanted video...and found a nice spot to shoot a feature down near the old location....thanks m2e for another great yr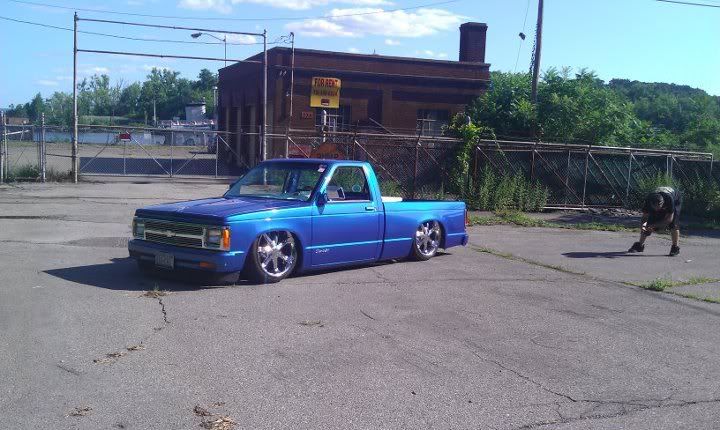 ~
Xclusive
~
MOST WANTED VIDEO
96 S10 Layin Frame On KMC's, Fully Shaved

Great show like always. Wish I could have made it yesterday as well but was glad to be able to swing through today.
Thanks again guys for all the hard work.
A shame to hear some people missed this show purposely due to politics and bs, but hey thats why the scene isn't nearly as strong as it was 10 years back. I'll always attend and support this show
C10 will be done

NEVER!!!?

show season be on the look out!!!! SOLD!!!!!!!
Sorry i couldn't make it. Hope the showhad a great turnout. Anyone have pics online yet?
Hey everyone, just wanted to say congrats to all of our award winners and to give a big thanks to everyone that came and supported the show this year. For those who couldn't make it we hope to see you next year.

We had another great year and look forward to another one next year. As always we like to hear your input good or bad so we can make Envy Frenzy better then ever. We throw this show for you and to help keep the scene alive and want you to have the best time possible. Hope everyone did, and we look forward to making Envy Frenzy 12 even better!

Thanks again!
PIG
ENVY FRENZY OR BUST!!!!!!!!!
had a great time, hotel was crazy as always. draggin comp this year was sick

congrats to drag mobb, DI, Addition disorder, xclusive and all the other big winners

thank u M2E for another great year
Below Average

PR department Most Wanted video
Veeps wrote:Sorry i couldn't make it. Hope the showhad a great turnout. Anyone have pics online yet?
You can check out a ton of pics on Xclusive Car Clubs Facebook page
~II Xtreme Levels~
93 Ranger Underconstruction Bagged and Shaved
---
Who is online
Users browsing this forum: No registered users and 1 guest